Bit Mapper Integration Technologies is a leading name in embedded and defence electronics design. As a proud member of The Phoenix Group™ since 2021, we have established ourselves as one of India's premier providers of electronics and defence solutions. Our offerings encompass innovative defence products, embedded and AI-powered vision systems, commercial-grade industrial SoC programmable boards, and a comprehensive range of embedded and defence services. Bit Mapper Integration Technologies strives to pursue innovation and technological advancements continuously.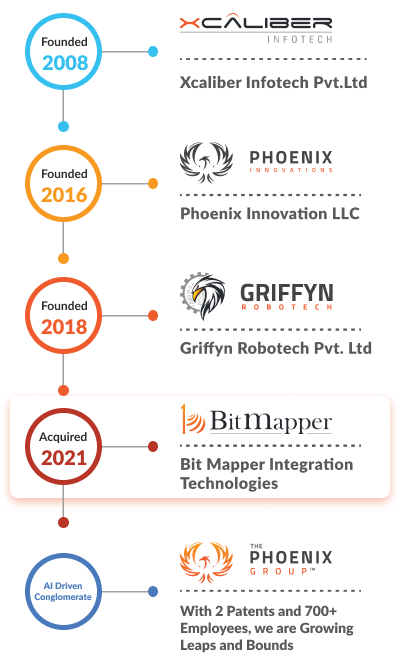 At Bit Mapper, our core philosophy centers around the motto "Innovations Serving Motherland," reflecting our unwavering dedication to contributing to the progress and security of our nation.

Bit Mapper Integration Technologies is part of The Phoenix Group™, a consortium of three more companies: Xcaliber Infotech Pvt. Ltd., Griffyn Robotech Pvt. Ltd., and Phoenix Innovations LLC.

At Bit Mapper Integration Technologies, we take immense pride in our expertise and solutions that cater to the defence sector and embedded electronics domain. With a steadfast focus on delivering excellence and serving our nation, we aim to play a vital role in fostering a brighter and more secure future for India.
A persistent team of people lead by Mr. Amit Mahajan embarked on a journey, that would eventually develop great ideas and became home for ingenious innovation.